Air Duct Cleaning and Dryer Vent Cleaning in Irondequoit, NY
Air Duct Cleaning and Dryer Vent Cleaning Services for Irondequoit, NY
Do You Have Dirty or Dusty Ducts?
When was the last time you had an air duct cleaning at your Irondequoit, NY property? What about a dryer vent cleaning? If you don't remember, or it has been several years, it is time to give a call to Pinnacle Eco Clean to schedule these services. Your air ducts can blow around nasty contaminants that make it more difficult to breathe, and your dryer vent could be the cause of a house fire. Having these two systems cleaned not only gives you peace of mind but will end up saving you money on energy costs month after month. Give a call to our team today to learn more and schedule a time for our technicians to come and clean them.
Breathe Easier With Air Duct Cleanings in Irondequoit, NY
Get Cleaner Air Ducts, Cleaner Dryer Vents, and a Healthier Home
You might have noticed a bad odor coming from your air ducts whenever you run your HVAC system, and this is a clear sign that you need to have an air duct cleaning so that whatever is lodged in your ducts is cleaned out and you have clean, fresh air circulating in your building. You will also help yourself by not having to dust as often as your air ducts are clean and your filter is trapping the dust and other contaminants.
Along with cleaner air, your HVAC system will also have an easier time moving air around the building with clean ducts. This means your system will last longer because it isn't working as hard, and you will also save money on energy costs on an ongoing basis. These two things more than offset the small cost to have an air duct cleaning performed.
Dryer Vent Cleaning Increases Efficiency in Irondequoit, New York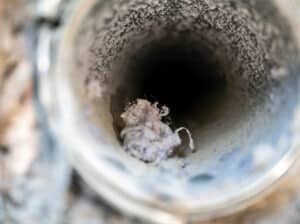 Just like the air ducts in your Irondequoit, NY home, your dryer vent also needs to be cleaned to help your dryer operate efficiently. Even though you clean out your dryer lint trap regularly, some lint can still get past and get trapped in the dryer vent. Dryer vent cleaning will allow your dryer to operate more efficiently and save you money on energy costs. Your dryer will also last longer, and you reduce the likelihood of a fire starting in your dryer vent when it is cleaned.
Improve the operations of your home with air duct cleaning and dryer vent cleaning. The Town of Irondequoit was founded in 1839 when it separated from the Town of Brighton. The north edge of the town was developed as a tourist and vacation area for the City of Rochester residents, and was once known as the "Coney Island of Western New York." Schedule your cleaning by calling Pinnacle Eco Clean today and talk with our experienced staff.
Contact us today for air duct cleaning!