Outdoor Patio and Upholstery Cleaning and Storage in Rochester, Canandaigua, and the Finger Lakes Region, NY
When you have outdoor furniture at your Rochester, Canandaigua, or Finger Lakes Region home, the cushions on that furniture are out in the elements.
Beating sun, rain, wind, pollen, and a host of other things affect your outdoor furniture cushions, and they really could benefit from an outdoor patio cushion cleaning.
Our team at Pinnacle Eco Clean can do your outdoor patio upholstery cleaning to remove the dirt, grime, stains, spider webs, and other contaminants. We can also offer outdoor patio cushion storage so that when spring comes around you will have your outdoor furniture cushions ready to go, fresh and clean.
Contact us today to learn more.
Outdoor Cushion Cleaning and Storage Service
Let us clean & store your outdoor / patio cushions for the winter!
Bring us your pillows or cushions
Drop off at our shop at 215 Mushroom Blvd. in Henrietta (between Labor Day and New Years' Day)
cleaning and storage
We will clean, dry, wrap, and store your cushions in our climate-controlled facility for the winter
Pickup your pillows or cushions after winter
You can pick up your cleaned and wrapped cushions at our shop after April 1st (Please call the day before so we will have them ready!)
Unit Pricing
Cleaning: $25.00 per pillow or cushion, regardless of size. Includes cleaning, bagging, and storage
Protection: $10.00 per pillow or cushion, using the protection product recommended by Sunbrella – helping restore water repellency and useful life of your cushions.
Outdoor Patio Cushion Cleaning and Outdoor Patio Upholstery Cleaning Services
In order to extend the life of your outdoor patio cushions, it is important to have them cleaned regularly.
Our experienced team can work to remove stains on your patio cushions, whether they are from a spill or rust from the metal furniture.
Outdoor patio upholstery cleaning also removes bacteria, as well as the accumulated dust and dirt from being outdoors. The colors will remain vibrant and your outdoor patio cushions won't have any unpleasant smells from not being cleaned.
While you might not think that your cushions would get that dirty in just a few months' time, they really do act like a dirt trap. Regular cleanings are the best way to keep your outdoor patio furniture looking good and prevent premature aging.
When the season is winding down, you can bring all of your outdoor patio cushions to our Henrietta location for drop-off.
We can do all of the cleanings and have them ready for pick-up at the same location.
If you are in the Finger Lakes Region, we can even provide scheduled pick-up and drop-off services for your outdoor patio furniture cushions.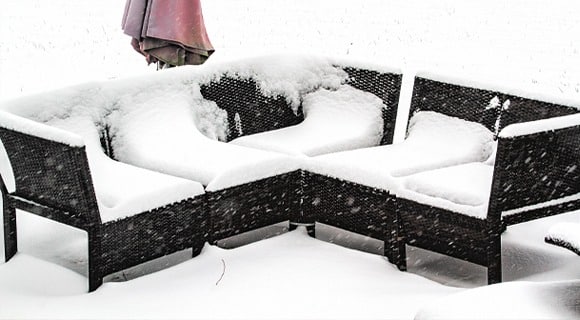 Outdoor Patio Cushion Storage
Along with the outdoor patio cushion cleaning service, we also offer outdoor patio cushion storage.
Once we have your cushions fully cleaned, we can store them as well over the winter months and have them ready for pick-up the following spring. This will save you both time as well as space since you don't have to find a place to hold your patio cushions.
Keep your outdoor furniture looking great by investing in outdoor patio cushion cleaning as well as storage in Rochester, Canandaigua, and the Finger Lakes Region. Call us at Pinnacle Eco Clean to schedule your cleaning and storage utilizing our drop-off location or scheduled pick-up service in the Finger Lakes Region.
Contact us to get started