Victor, NY Air Duct Cleaning Services
Do You Have Dirty, Dusty, or Moldy Ducts?
Do you need quality air duct cleaning in Victor, NY, or the surrounding area? If you're dealing with rising utility bills, stuffy indoor air, and odd smells coming from your vents, it might be time to call Pinnacle Eco Clean.
Many in New York rely on us for all their duct cleaning needs, and you can, too. Our team of industry-leading experts is here to help you get your air quality back on track.
Air Duct Cleaning Services in Victor, NY
Get Cleaner Air Ducts, Cleaner Dryer Vents, and a Healthier Home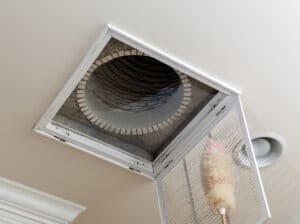 It's easy to forget about the air ducts in your home or office, but the benefits of keeping them well maintained are undeniable. Here are just a few reasons to consider professional air duct cleaning services in Victor:
Improved indoor air quality. Dust, mold spores, pollen, and other contaminants can build up in your ductwork over time. If you want to prevent health problems due to dirty indoor air, regular cleaning is a must.
Lower utility bills. Clogged duct systems must work harder to move air, so they use more energy and drive up your utility bills. Keeping your ducts clean can improve your home or office's energy efficiency.
Longer HVAC lifespan. HVAC systems with dirty air ducts and filters sustain more wear and tear over time and are more vulnerable to breakdowns. With regular air duct cleaning, you can save yourself the cost of an early HVAC replacement.
We understand that not everyone is familiar with the cleaning process, so we're always happy to answer any questions and concerns you may have. We also offer dryer vent cleaning services in Victor, NY, for those who need it.
Dryer Vent and Air Duct Cleaning in Victor, New York
Pinnacle Eco Clean proudly serves the homes and businesses of Victor, a bustling community in upstate New York. The area has 14,275 residents and offers the perfect blend of small-town charm and big-city amenities.
Some popular local attractions include the Osborne House, Auburn Trail, and Eastview Mall. Many also love living in Victor for its proximity to Rochester (just 20 minutes away!) and the famous Finger Lakes region.
If you need professional air duct cleaning or dryer vent cleaning in Victor and the surrounding area, Pinnacle Eco Clean is ready to serve. Expect no less than outstanding customer service and five-star results when you partner with our team. Contact us to discuss your needs today.