Commercial Carpet Cleaning in Pittsford, NY
Commercial Carpet Cleaning in Pittsford, NY
Do You Have Dirty or Stained Office Carpets?
The carpet in your Pittsford, NY, office or business undergoes a lot of heavy traffic and wear and tear. If you notice that the carpet looks dingy or stained or you smell an unpleasant odor, it's time to hire a commercial cleaning service.
Professional carpet cleaning gets deep into carpet fibers, removing dirt and stubborn stains, leaving you with carpet that looks almost new. Take advantage of our deep cleaning services to tackle all of the accumulated grime, and let us bring your carpet back to life.
Commercial Carpet Cleaning Service in Pittsford, NY
Get a Cleaner Carpet and a Healthier Business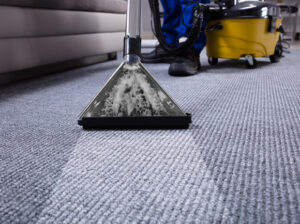 Even if your cleaning team regularly vacuums the carpet in your office, dirt and stains still accumulate over time. Advantages of hiring professional carpet cleaners include:
Saving time: While you may think deep cleaning the carpet yourself may save money, don't forget to factor in your time. Moving furniture and pre-treating stains takes time, not to mention the actual time you spend cleaning. Professional carpet cleaners know how to quickly and efficiently do the job, saving you time and energy.
Using the right equipment: While you may be able to rent a carpet cleaner from a home improvement store, it doesn't compare to the strength of a professional-grade carpet cleaner. Our experts at Pinnacle Eco Clean use the latest in carpet cleaning techniques and equipment to remove even the most stubborn stains.
Eliminating allergens: Keeping your employees and customers healthy is easier with clean carpets. Carpet fibers trap dust mites, pollen, and microscopic organisms that cause allergies and other issues. Our commercial carpet cleaning services use environmentally-friendly cleaning solutions that get rid of potential allergens while sprucing up your carpet's appearance.
With our commercial cleaning services, you can rest easy knowing that your business has clean floors and a healthier overall work environment.
Professional Floor Cleaning for Pittsford Businesses
For the past 40 years, our team at Pinnacle Eco Clean has proudly served the residents and business owners of Pittsford, NY. Home to over 30,000 people, Pittsford's proximity to the Erie Canal made it a hub for industry during the late 19th century. Now, Pittsford is the location of the state's largest Wegmans and host to several PGA Championships.
When you're looking for the best in commercial carpet cleaning in Pittsford, NY, and the surrounding areas, contact Pinnacle Eco Clean. Let our professional team get your carpets back to looking like new in no time.