Dryer Vent Cleaning in Pittsford, NY
Dryer Vent Cleaning in Pittsford, NY
Do You Have Clogged Dryer Ducts?
If your clothes aren't drying as quickly as usual, or you smell something burning while using your clothes dryer, it may be time to clean your dryer vents. Maintaining clean dryer vents is essential for numerous reasons, making it a crucial task for property owners to tackle.
At Pinnacle Eco Clean, we're the premier dryer vent cleaning company in Pittsford, NY. We offer comprehensive cleaning services for any size job, from whole-house duct cleaning to dryer vent cleaning. Our trained and experienced technicians quickly and efficiently clean your dryer vents, ensuring they're clear and lint-free.
Dryer Vent Cleaning Services in Pittsford, NY
Get Cleaner Dryer Vents and a Safer, Healthier Home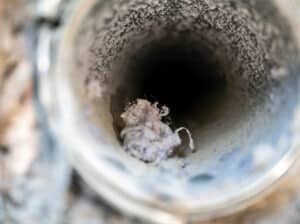 While some people may not think about cleaning their dryer vents on a regular basis, it's a vital part of keeping your home and family safe. Some of the benefits of dryer vent cleaning include:
Safety: Even if you clean the lint trap in your dryer after every load of laundry, excess lint still builds up in your dryer vent. If left unattended, the lint becomes a serious fire hazard.
Efficiency: Keeping your dryer vents clear of lint helps your energy bills stay lower by increasing the dryer's efficiency. When clogged with lint, your dryer has to work harder to dry your clothes, resulting in higher utility bills.
Longevity: If you want to extend the life of the dryer in your Pittsford, NY, home, make sure to keep your lint trap and dryer vents clear. When your dryer vents become clogged with excess lint, your dryer has to work harder, causing more wear and tear on your machine.
At Pinnacle Eco Clean, we provide a full range of residential services, including dryer vent cleaning. Keep your dryer running safely and efficiently by utilizing our dryer vent cleaning services.
Dryer Vent and Air Duct Cleaning in Pittsford, New York
At Pinnacle Eco Clean, we proudly serve the residents and business owners of Pittsford, New York. Incorporated in 1796 and located just outside of Rochester, Pittsford is home to 11 beautiful town parks. The parks offer a range of activities, including cross-country skiing, fishing, and miles of trails. Pittsford also hosts the Buffalo Bills training camp each year at St. John Fisher College.
For all of your air duct and dryer vent cleaning needs in Pittsford, NY, and the surrounding areas, trust our experts at Pinnacle Eco Clean. Contact us today and experience our top-quality dryer vent cleaning service.